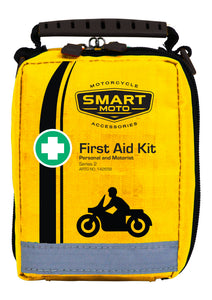 SMART Moto
SMART Moto Essential First Aid Kit for Motorcyclists
Regular price
$31.00
$0.00
Unit price
per
GST included.
Shipping
free in Australia.
It's here! Staying upright is the goal but sometimes we all need a little help. For those moments, we have the SMART Moto Essential First Aid Kit for Motorcyclists. Just in time for Christmas and long summer rides, SMART Moto Essential First Aid Kit for Motorcyclists is the perfect addition to your kit or stocking stuffer for the rider in your life.

With everything you'd expect in a standard compact First Aid kit, you shouldn't be without it when riding. For basic first aid, from burn gel to bandages and wound dressings, it may be the thing that gets you home in one (patched up) piece! 
Packed in a compact, vibrant yellow, soft pack for excellent visibility and pannier packability.
Excellent for the car, around the house, adventuring, hiking, camping, marine, anywhere.
We hope you'll never need to use it, but it's a small piece of mind for when life throws incidents at you.
Please note: this is a basic kit for tending to simple first aid requirements. All elements have an expiry date and first aid kits should be checked periorically and prior to your trip departure. 
Specifications:
Dimensions: 16 x 12 x 9cm
Gauze swabs x 3 - 7.5cm x 7.5cm
Plastic Plasters - 7.2cm x 1.9cm
Low Adherant Dressing - 10cm x 10cm
Conforming Bandage - two sizes;

- 5cm x 4m
- 7.5cm x 4m
Triangular Bandage - 110 x 110 x 155cm
Microporous Paper Tape 2.5cm x 5m
Eye Wash Ampoule 15mL
Burn Gel Sachet 3g
Scissors - 10cm
Tweezers - 12cm
Safety pins
Wound Dressing
Disposable Face Shield
Cleansing Wipes
Nitrile Gloves
Notebook and Pen
First Aid Leaflet
---
Share this Product
---