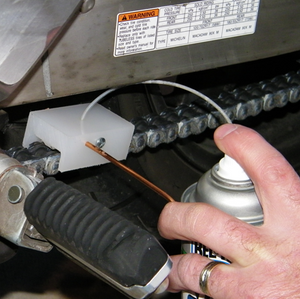 Grease Ninja
Grease Ninja Chain Lubrication Systems
Regular price
$7.00
$0.00
Unit price
per
GST included.
Shipping
free in Australia.
A nifty little gadget that keeps your motorcycle or bicycle chain oiled and smooth as silk. Grease Ninja directs and contains your aerosol chain lubricant in the correct areas, which means less mess and less waste. Grease Ninja Chain Oiler is perfect for motorcycles with very little exposed chain (think chain guards). A robust piece of kit (some say virtually indestructible) this works on the stickiest of lubricants and is easy to keep clean. This tool comes in several different sizes so there will be one that suits your bike. You can reuse again and again to keep your chain lubed up. 
Bonus feature: these also make a great tool for cleaning your chain (we'd advise a second one to keep things squeaky clean) alongside the Brush Rag.

A handy hint, buy a second spray tube kit for using with chain cleaner and keep that chain super sparkly clean. 
Three sizes available, 428/520, 525/530, 415/420 and a bicycle version. Additional spray tubes are also available.

This product is one of our best sellers and with good reason. 
SAFETY NOTE - Don't get your fingers chopped off! If you are applying Grease Ninja to a motorised vehicle drive chain, the engine must be OFF.
Specification
428/520
525/530
415/420
Also available
Bicycle kits

Spray tube replacements
How to use the Grease Ninja
If motorcycle, raise the rear wheel(s) off the ground—if bicycle, allow for backpedaling without interference.
Expand the retaining wire around aerosol can.
Place spray tube hose in Grease Ninja and aerosol lubricant nozzle. For best results, the spray tube should come 'horizontal' out of the aerosol can nozzle. This can be accomplished by moving the retaining wire 'down' the aerosol can.
Place the Grease Ninja on the drive chain.
Slowly move chain through Grease Ninja by rotating the tire or backpedaling, and dispense lubricant.
Apply lubricant as needed.
---
Share this Product
---