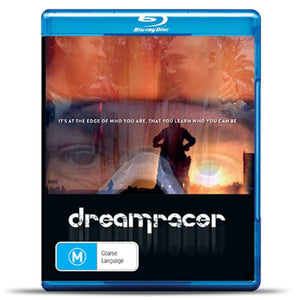 SMART Moto
Dream Racer - a film about the Dakar Rally
Regular price
$24.00
$0.00
Unit price
per
GST included.
Shipping
free in Australia.
Dream Racer shows the legendary Dakar Rally in its purest form – no sponsors, no multi-million dollar team, not even a mechanic – just one rider, a motorbike, a film maker and the world's most dangerous motor race. Far more than just a motorbike movie, Dream Racer is a call to arms for anyone who has ever dreamt of doing anything – a spine tingling antidote to the fear of life passing you by unfulfilled.

Internationally acclaimed and 7 x Award Winning film Dream Racer has been broadcast on Discovery World, FOX, Qantas, Emirates, Virgin Atlantic, and bought by customers from over 145 countries.

Available in PAL, NTSC and BluRay. The Dream Racer Blu-Ray version is region-free and will play worldwide. 

Dream Racer (The Film) has been loved worldwide.

"Epic. What an amazing and wonderful story"
"...beautiful and truly inspirational"
"much more than just a Dakar movie"
"...truly in awe"
"this movie is making me look at my own life"
"it has been a long time since I had seen such a beautiful film"
"I laughed, cried, screamed and reinvigorated my dreams"
"WOW - what a fantastic creation, it really moved me"
"It is realistic, gutsy and honest."
Specifications
An UNLTD Production written, produced and Directed by Simon Lee, edited by Adrian Barac. Original music by Matteo Zingales. Copyright (c) Dreamracer Pty Ltd
Aspect Ratio 16:9
Master Audio: dts-HD
All Regions
Feature Length 93 Mins
English Language
Subtitle options: Spanish, French, Portuguese, Italian, German, Russian
PAL -

Asia, Africa, Europe, South America and Oceania.

NTSC - United States, Canada, Caribbean, Central America Mexico, South America, Japan, South Korea, Taiwan, Hong Kong, Macau, Southeast Asia* (location may vary), mainland China.

Blu Ray
---
Share this Product
---