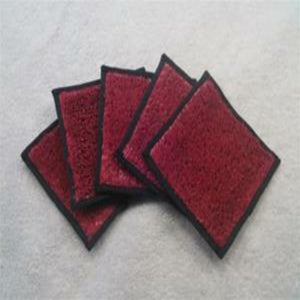 Grease Ninja
Grease Ninja Brush Rag Chain Cleaner
Regular price
$20.00
$0.00
Unit price
per
GST included.
Shipping
free in Australia.
Dirty chain, good times.

But dirty chains lead to wear and tear. Lack of lubrication can cause accelerated drive chain and sprocket wear and oiling a dirty chain doesn't help. Cleaning motorcycle chains is tedious, messy, and frankly, a bit of a chore.
The Brush Rag is a 120 mm x 120 mm disposable, flexible brush specifically designed to simplify cleaning motorcycle drive chains with kerosene. The Brush Rag consists of flat bristles on a flexible backing with integrated hand strap, allowing it to be wrapped 360° around the drive chain for efficient chain cleaning.
Bristle contact is 360° around the chain, eliminating the need to re-position the brush to clean all sides of the chain.
Bristle pressure is easily controlled by holding and squeezing of the Brush Rag around the chain.
The Brush Rag manages grit and grime by catching debris in the bristles. Meaning it limits mess and particles ending up everywhere (less cleaning up), it also manages overspray and wastage when applying cleaning products. The Brush Rag is quickly and easily cleaned for next time around (reuseable = doing what we can for the environment).

Total time for chain cleaning is drastically reduced, meaning more time for riding.
This handy little product is also great at scrubbing and cleaning tyres, spokes, and other hard to reach places. The Brush Rag will allow between 1-3 chains depending on how dirty the chain is. Simply wipe off debris and cleaner with a cloth after use.

SAFETY NOTE - Don't get your fingers chopped off! If you are cleaning chains on a motorised vehicle drive chain with a Brush Rag  the engine must be OFF.
Specifications
Note: We are Safety First kinda people, so when cleaning a motorised vehicle drive chain, the engine must be turned off.
IMPORTANT – MOTORCYCLE ENGINE MUST BE OFF
Place Motorcycle on centre stand or jack to raise rear wheel
Lay paper/sheeting under chain area to catch overflow
Slip Brush Rag over palm and place under portion of chain to be cleaned
Spray chain cleaner or kerosene directly onto chain, using Brush Rag to catch any overspray
Close hand to wrap Brush Rag around the chain
Move Brush Rag back and forth over chain until chain debris is removed, varying pressure as required

Reposition Brush Rag to next portion of chain to be cleaned. Wipe Brush Rag with cloth as required to remove debris. Continue until entire chain is clean
Dry off chain with clean cloth rag
---
Share this Product
---